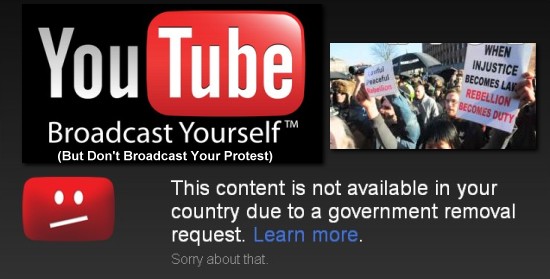 The long term ban on user access to YouTube is currently in force in 5 countries: China, Iran, Pakistan, Syria and Turkmenistan, with Egypt the latest in a long line of other countries to face more temporary censorship. As a powerful vehicle for social, political and economic advocacy, YouTube has made an enemy of many governments who seek to limit exposure to the content that it carries. Although the main reasons for the current long term censorship of the whole site are based on political or religious doctrine, short lived boycotts have also occurred because of contentious or potentially inflammatory videos that have been uploaded or because of the threat of anti-establishment user generated video content.
In this post we'll take a look at some of the reasons why the permanent bans are in place but first let's catch up with the current situation regarding Egypt.
Egypt And "The Innocence Of The Muslims"
A 13-minute video, "The Innocence of the Muslims", originally uploaded to YouTube in July 2012, was a trailer for a US produced film, considered by many to denigrate the prophet Muhammad. Its existence caused outrage and riots in many Muslim countries back in September 2012, leaving at least 50 dead.
Yesterday, following similar action by Pakistan and Iran, A Cairo Judge ordered the Egyptian Government to block YouTube for 30 days. The Judge, Hassouna Tawfiq, deemed the video highly offensive to Islam. However, it is believed that the decision can be appealed and that, based on precedence, it may not be that easy to actually administrate.
Google has always stated that it believes that the trailer does not violate YouTube's community standards guidelines governing the United States. However, it did self censor the video in countries where it was deemed illegal when riots broke out and issued the following statement:
We work hard to create a community everyone can enjoy and which also enables people to express different opinions. This can be a challenge because what's OK in one country can be offensive elsewhere. This video -- which is widely available on the Web -- is clearly within our guidelines and so will stay on YouTube. However, we've restricted access to it in countries where it is illegal, such as India and Indonesia, as well as in Libya and Egypt given the very sensitive situations in these two countries. This approach is entirely consistent with principles we first laid out in 2007.
In the UK, which has a Muslim population of 4.8%, YouTube have issued the following warning to viewers.

After yesterday's decision, YouTube, via their parent company Google, confirmed that they were yet to receive any official correspondence from the Egyptian authorities on the matter.
Iran
Iran has had a tempestuous relationship with YouTube, first banning it completely in December 2006, after declaring it "immoral". Restricted access stayed in place until 2009 but the site was again blocked (along with Google) following the release of the "Innocence of Muslims" film last year. Access to GMail was also affected by the most recent ban but was available again a few days later. It is estimated that Iran has 32 million internet users out of a total population of around 75 million.
Syria
The site was completely blocked in August 2007 after a video was uploaded showing the First Lady, Asma al-Assad, waving a farewell as her dress was caught by wind and blown up. After a brief respite the ban was reinstated after the start of the 2011 Syrian Civil War. As of the 29th November 2012, it is understood that all web and mobile access is down for the overwhelming majority of its citizens.
Turkmenistan
YouTube was blocked by its only ISP in December 2009, and the ban has been in place in Turkmenistan ever since. Turkmenistan is considered the third worst country for media freedom of speech (after Eritrea and North Korea) and access to all media networks are very tightly controlled.

Another social network site, LiveJournal, is also affected and out of over five million Turkmen citizens, only 70,000 have access to the internet.
China
YouTube has been blocked in China since March of 2009, with other Google services and social networking sites like Twitter & Facebook also under attack. The Chinese Government confirmed that websites that allow user generated video content must be either state owned or controlled and have the necessary permits. In July 2012, online video in China came under more scrutiny as websites are now expected to pre-screen all content for "violence, pornography and swearing"
Temporary Bans
In the past, limited or no access to the whole of YouTube has been enforced in Afghanistan, Armenia, Bangladesh, Brazil, Indonesia, Libya, Morocco, Russia, Syria, Sudan, Thailand, Tunisia, Turkey & The UAE. These rulings have lasted anywhere from days to years depending on the reasons behind the bans.
Monitoring Internet Access
The political and social landscape is ever changing when it comes to the internet, and although we'll always keep you up to date with the latest news, there are a couple of great resources you can use yourself. The Open Net Initiative has an awesome feature that keep tabs on the countries that block YouTube and the reasons why they do it.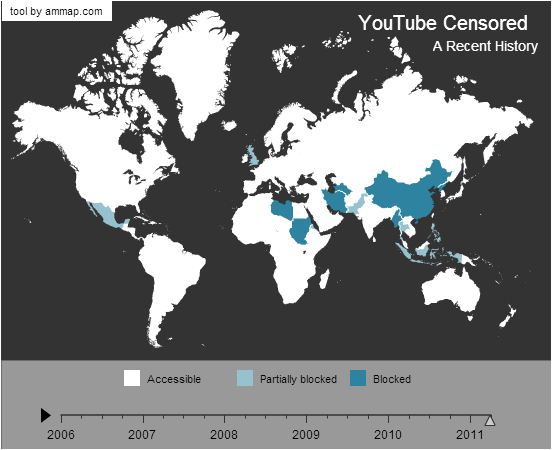 Google, via their Transparency report, also show the latest outages for their services with links to original new sources for guidance.