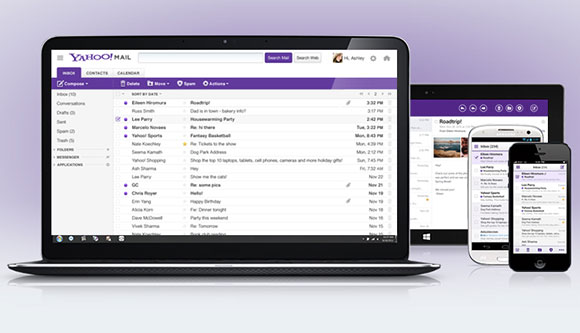 I opened my yahoo mail today and I saw this Gmail like webmail design. So I search the internet and read new press releases of Yahoo's new CEO.
The news
Marissa Mayer, the CEO of Yahoo, made the announcement on the company's corporate blog earlier today. She said:
We've redesigned the new version of Yahoo! Mail with speed in mind - getting through your emails is faster than ever before.

We've also made your inbox more intuitive and easier to navigate, allowing you to focus on what matters most: your messages. And, because mobile is everything these days, Yahoo Mail now has a consistent look and feel across devices.
The new updates for Yahoo Mail where implemented on all major platforms including iOS, Android, Windows 8 and standard web browsers, giving it a much cleaner design and simpler navigation.
This revamped Yahoo Mail web interface bears more than a passing resemblance to Gmail.


Based on my observations the changes are primarily cosmetic; the underlying functionality of Yahoo Mail remains exactly the same. That said, Yahoo Mail has dispensed with some of its more annoying design decisions - for example, when you login you'll now land in your inbox rather than being dumped on an intro page. The new look also cuts down on the overall clutter of the web-based interface and reduces the number of clicks it takes to perform common tasks. The buttons or menus are now larger making it more easy to see and click.
Yahoo claims that according to comScore data, they are still the number one email service in the United States, outstripping both Gmail as number two and Hotmail/Outlook. However, if Yahoo Mail is to retain, or continue to grow its user base the reception and success of this new design is key. There are plenty of free email service out there, and Yahoo needs to ensure they're leading, and not just mimicking the competition.
If you're not seeing the new web version just yet, Mayer says the new version will be rolling out "over the next few days." You can grab the iOS, Android and Windows 8 apps from their respective stores. (Note that the iOS app is iPhone/iPod touch only.)
New! iPhone and iPod touch

New! Windows 8

Improved! Android (auto-updated for current users)