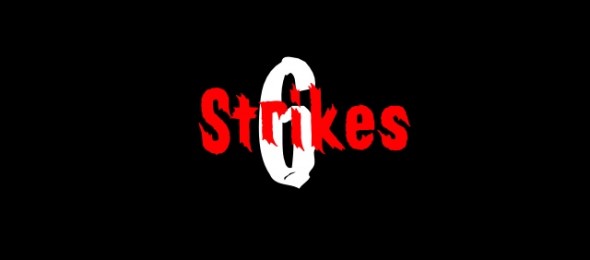 As of 25th February, 2013, copyright holders will begin to actively track millions of internet users throughout USA. In a move to tackle online piracy, Hollywood and Record industries will be able to monitor copyright infringement through file-sharing, particularly BitTorrent.
The newly imposed 6-strike law, will allow your ISPs (under pressure from the copyright holders) to send out regular warnings to BitTorrent users, with consequences that will include a severe reduction in download speeds, as well as certain browsing restrictions.
The new law was proposed in 2011, when the MPAA and RIAA began cooperating with 5 major US ISP's, subsequently coming up with a radical way to punish BitTorrent "pirates".
Check the video released by the campaign, describing the process that essentially takes away your online privacy and freedom:
Examples of specific punishments for infringement includes blocking access to some of the most popular sites on the web (A&T), throttling internet connection speeds (Verizon, Comcast) and temporary disconnections (Time Warner Cable). Moreover, the document containing new rules also means that Hollywood companies and the Music industry are now able to use reports from ISP's to file lawsuits against "pirates":
""The Content Owner Representatives [MPAA / RIAA] or any other member of the Participating Content Owners Group may use such reports or data as the basis for seeking a Subscriber's identity through a subpoena or order or other lawful process. For the avoidance of doubt, the Parties agree that the Content Owner Representatives may share such reports with the other members of the Participating Content Owners Group..""
Comcast have already begun sending out warnings to their customers and here's an example that was uploaded by one user: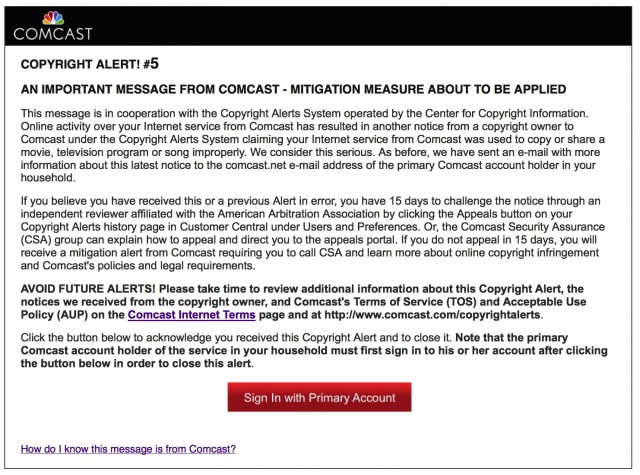 How to beat 6strikes:
The best way to keep your online privacy and freedom is with a torrent friendly VPN or Proxy service, which will assign your internet connection with a new and anonymous IP address, encrypting your downloads in the process. We provided links below, where you can find the best VPN services for P2P/BitTorrent users for USA residents:
VPN Services That Dont Keep Logs

VPN Reviews
So hurry and regain your online freedom with a professional and secure VPN!