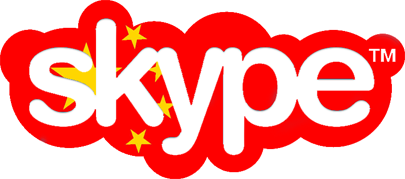 Skype is one of the most popular services for making phone calls as well as chatting over the Internet, appealing to 250 million monthly connected users: it is a great way to keep contacts with friends and family but also business contacts based far or even abroad.
But in China, people's phone calls and text chats in Skype can be monitored by the country censorship authorities. And most people are not aware of it. Microsoft, however, assumes that each user do consent, as expressed in their Privacy Policy.
The fact that Skype is collaborating with Tom Online and operating under "local laws and regulation" in China has been known for years, through mainly activists' concerns. Skype's claim that "this is an automated process and operates solely on text chats", but this is more unlikely to be true. If the Chinese authorities make a request to access to communication data for a given user, they have to comply and to store the data. It is therefore assumed that all communication data - including both text and voice - passing through Tom's servers is saved and made available to authorities upon request. While these conditions have been known for years, most Skype users are probably not aware of the differences between Tom Skype and the regular Skype. Many are running Tom Skype on their computers thinking that it is the regular Skype and trusting Microsoft to deal with their call and chat data confidentially.
What is even worse is that even if a person is running the regular version of Skype, if the person he/she is chatting with or talking to is running the Tom version, all communication is still being monitored and made available to the Chinese authorities.
The regular version of Skype is not blocked in China, but downloading it is made difficult by Skype and Microsoft. Indeed, by redirecting Chinese users to Tom Skype without notice, Microsoft is actively misleading users to think that they are downloading the real Skype client. By doing so, Microsoft is actively making it more difficult for Chinese users to circumvent surveillance.
By using a VPN service, Chinese internet users can avoid such spying of all their skype communication. A VPN (Virtual Private Network) allows to establish secure Internet connection for anonymous internet browsing and unrestricted web surfing. It will change & hide one's IP address, bypassing proxy and allows internet usage anonymous.